Service dogs aren't just born, they're raised.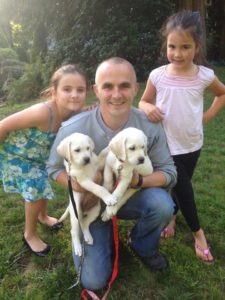 Volunteer puppy raisers provide future service puppies a safe home, take them to obedience classes, serve up a healthy diet, provide socialization opportunities and give lots of love.
Each hour spent caring for an Autism Service Dog puppy is vital to its development as a future assistance dog. The puppy raising program provides a unique opportunity for volunteers to assist with our very important mission.
Please note: You must be at least 18 years old to be a volunteer puppy raiser. Those under the age of 18 must have a parent or legal guardian as a co-applicant on the puppy raiser application.
Raise a puppy, change a life.
Provide a safe environment for a puppy who will be the only dog under 1-year old in the house (preferably a single dog).
Work closely with ASD-BC monitoring the puppy's progress and submit monthly reports.
Attend ASD-BC approved obedience classes at our facility.
Teach the puppy manners and basic commands.
Provide financially for the puppy's food and transportation expenses.
Feed the puppy a diet recommended by ASD-BC.
Provide a kennel or crate for sleeping indoors.
Provide the puppy with age-appropriate socialization opportunities such as public outings and medical appointments.
Keep the puppy on a leash at all times unless in a securely fenced area.
Supervise the young puppy throughout the day.
Agree to return the puppy upon request.
To find out more check our puppy raising FAQ